Being a future librarian, I can't help the impulse to index and collect! Here's some interesting library-related (and information-related, since the two go hand-in-hand) things that I saw in the news this summer I want to save for future reference…
---
LGBTQIA displays taken down/not permitted in Washington County (Utah) Libraries (July & August, 2018)

Tucker [Washington County Library Director} said he couldn't say how many complaints he had received over the Hurricane LGBTQ displays either this year or last year, or say who complained.
"How many complaints is too many?" he said. "If one person is upset that's kind of highlighting there may be a problem."
"If you put up a display that says LGBTQ, you're pushing away a segment of our society," said Joel Tucker, Washington County Library Director.
"Have there every been displays on like, Black History Month, or something like that?" asked Stephen Lambert, with Equality Utah.
"Well, I would say Black History Month isn't controversial," answered Tucker.
"And when you say Black History Month is not controversial, but our Month is, you are dismissing us," said Mark Chambers, a State Senate candidate who sat in the audience.
"Rather than try to avoid controversy I think we should try to embrace it and say this is what our community is talking about, these are the people in our community … and we should be proud of that," said James LaRue, Director of the American Library Association, Office for Intellectual Freedom.
The American Library Association shared their views with News4Utah about Washington County's LGBTQ display ban.
"We very much believe that the kinds of displays that go on in Pride month … they are part of the human condition and it makes perfect sense for them to be in libraries," said LaRue.
---
New York Public Library: "Insta Novels" project (August 2018)

The New York Public Library joined forces with the independent advertising and creative agency, Mother in New York, to create Insta Novels. The program aims to make great stories available even more widely.
The hope is that the custom illustrations and animated covers—created in collaboration with the creative agency Mother—will encourage readers to check out the NYPL's e-book offerings. The novels and novellas will be uploaded in full to Instagram and archived, turning the NYPL's Instagram highlights section into a digital bookshelf. Like any Instagram story, you hold your thumb to keep the page still in order to read it, and lift your thumb to turn the page. And if you let the story run on its own you're rewarded with a flip-book animation.
---
The Guardian: Neil Gaiman and Chris Riddell on Why We Need Libraries – an essay in pictures (September 2018)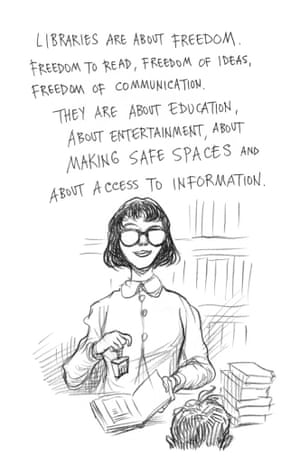 ---
Senior editors of open access journal, Nutrients, all resign in protest of pressure to publish lower-quality papers
Lynda Williams of the University of Aberdeen in the United Kingdom, one of the senior editors who stepped down, says editors began to sense pressure to accept more articles in recent months. This spring, a guest editor received comments from MDPI staff for having rejected too many papers, and occasionally the editors were asked to reconsider rejections. Williams feels this strategy will eventually harm the journal's impact factor and lead to a drop in submissions—threatening the journal itself. "They are essentially killing the cash cow," Williams says. Vazquez disagrees with this analysis and points out that most of the company's journals have boosted their impact factors even as they have published more papers. "If I would be killing the cash cow, I would be stupid."
Nutrients is one of MDPI's most cited journals. The journal published more than 5,000 papers between 2009-17, including 1,300 papers last year alone. Mr. Buckley told Science the journal has also seen a large increase in low-quality manuscript submissions. To eliminate these papers, Nutrients' rejection rate would have to increase from about 55 percent to 60 to 70 percent. "We are against setting an artificial rejection rate," Franck Vazquez, MDPI CEO, told Science. "Every article must be evaluated on quality, and if more papers are good enough, more should be published."
---
New York Times Op Ed: "To Restore Civil Society, Start With the Library"
I recently spent a year doing ethnographic research in libraries in New York City. Again and again, I was reminded how essential libraries are, not only for a neighborhood's vitality but also for helping to address all manner of personal problems.
---
Beth Crist from Colorado State Library and Meg DePriest from California State Library continue the discussion on removing library fees and fines with data/examples

It is a commonly-held belief that charging late fines serves to compel borrowers to return their materials promptly; conversely, the assumption exists that if there is no punishment for late returns, borrowers won't return their materials on time (or at all). Our review of research, along with recent circulation statistics from libraries that have eliminated late fines, invalidate this myth.
---
Google Employees resign over censored search engine project for China (reportedly codenamed Dragonfly)

Google is planning to launch a censored version of its search engine in China that will blacklist websites and search terms about human rights, democracy, religion, and peaceful protest, The Intercept can reveal.
The project – code-named Dragonfly – has been underway since spring of last year, and accelerated following a December 2017 meeting between Google's CEO Sundar Pichai and a top Chinese government official, according to internal Google documents and people familiar with the plans.
Teams of programmers and engineers at Google have created a custom Android app, different versions of which have been named "Maotai" and "Longfei." The app has already been demonstrated to the Chinese government; the finalized version could be launched in the next six to nine months, pending approval from Chinese officials.
The planned move represents a dramatic shift in Google's policy on China and will mark the first time in almost a decade that the internet giant has operated its search engine in the country.
Google's search service cannot currently be accessed by most internet users in China because it is blocked by the country's so-called Great Firewall. The app Google is building for China will comply with the country's strict censorship laws, restricting access to content that Xi Jinping's Communist Party regime deems unfavorable.
One of the names on the list is that of former Google senior scientist Jack Poulson, who worked for the company in Toronto before resigning over Dragonfly last month. Like the majority of Google employees, Poulson first learned about Dragonfly from the Intercept's story about the project, which said Google had already demonstrated Dragonfly for the Chinese government and that it could launch within six to nine months. Poulson said he was "shocked" by the news.
"If it was true, I was pretty sure immediately I couldn't continue working there," he told BuzzFeed News.
When Poulson resigned in August, he said he only planned to share his concerns about Dragonfly with those inside Google. But when Google didn't respond to a group of human rights organizations that presented it with a letter arguing that Dragonfly is unethical and asking the company to kill the project, Poulson felt compelled to share his opinion with the public.
"I'm offended that no weight has been given to the human rights community having a consensus," he said. "If you have coalition letter from 14 human rights organizations, and that can't even make it into the discussions on the ethics behind a decision, I'd rather stand with the human rights organizations in this dispute."
The reported resignations illustrate a shifting cultural environment at Google, where employees have been more outspoken, publicly challenging strategy set by the company's leadership.
It's the second time in recent months that Google employees have resigned in protest over one of the company's projects. Earlier this year, thousands protested Project Maven, a drone initiative for the US government that could weaponize their AI research. Around a dozen employees reportedly quit over the initiative.
According to The Intercept, Poulson said in his resignation letter that he was concerned not only about censorship, but the prospect of China hosting consumer data, where it could be accessed to go after political activists and journalists.
"Due to my conviction that dissent is fundamental to functioning democracies, I am forced to resign in order to avoid contributing to, or profiting from, the erosion of protection for dissidents," he wrote.